Inspired by the birth of her granddaughters Abbigail and Grace, Earline began creating heirloom baby treasures when they were born. Being a 50-year veteran of sewing, this new style of sewing became a passion for her. By the time she attended middle school, she was already wearing her own creations.
In 2011, Earline attended the prestigious training class to become a Licensed Martha Pullen Heirloom Sewing Instructor. In April 2013, she received a second license in Children's Garment Construction.
Every licensed Martha Pullen teacher is authorized to teach Martha Pullen licensed designs and sell Pullen's books, imported fabrics, and laces.
Earline is currently conducting classes in St. Louis, MO metropolitan area and is licensed to conduct her Martha Pullen classes anywhere in the world.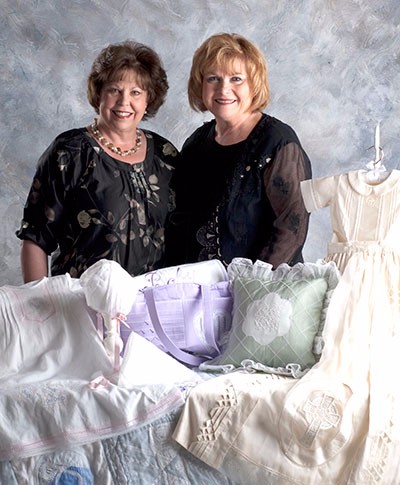 Earline on the left with Martha Pullen
Testimonials
"I first met Earline as the teacher of a smocking class I took to refresh my skills. I was so inspired I started an online children's clothing business. I now rely on her skills to design and sew special occasion-smocked creations for my customers. My customers have been thrilled with the heirloom quality of her creations that will be in the family for generations. Earline's attention to detail is flawless and her creativity is boundless."
Judith A. Iffrig – Classic Stitches STL
"I had been sewing for years but decided with three little granddaughters I would enjoy a smocking class. WOW – little did I know how much I would learn about smocking and sewing in Earline's class. The sewing techniques were amazing and I can't say enough about Earline – what a teacher. I received written instructions and samples of each technique and I refer to them often. I can't wait to take more classes."
Sue D. – Chesterfield, MO
Let Earline create an heirloom for your child to be treasured for generations to come.
Many styles are available as pictured in the gallery and custom orders are always welcome. All of Earline's creations are 100% hand-crafted by her. Absolutely no outsourcing of any kind is used in the construction of her garments. All machine or hand embroidery is completed by Earline herself. Her garments are professionally finished on the inside and often completely lined. Only the highest quality fabrics, laces, and threads are used.  Earline's Sewing Room is completely smoke and pet free. You can be assured any garment created by Earline is of the highest possible standard. Satisfaction is guaranteed.
Classes are available for groups and individuals. Contact Earline for the current class schedule and locations. Private lessons for individuals and small groups are always welcome in Earline's Sewing Room.